Hot Yacht: Starry Kitchen and Michael Kotick Bring Next Generation Flavors and Politics to High Seas Pop-Up Oct. 7 – Tickets on Sale Now
Set sail for a night of food, politics, and drinks at sea. Democratic Congressional Candidate Michael Kotick and Starry Kitchen's superstar restaurateur Nguyen Tran are hosting a pop-up restaurant on the Pacific on Oct. 7, 2017.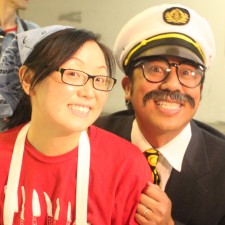 NEWPORT BEACH, Calif., September 13, 2017 – ​​​They are underground, highly sought after and ground-breaking culinary artists that only a few have had the opportunity to experience… they are Starry Kitchen. The superstar team of Nguyen and Thi Tran are collaborating with Orange County's Democratic Congressional Candidate Michael Kotick, to create an unforgettable, next generation high-seas pop-up.
On Saturday, Oct. 7, 2017, the corks will pop and the mega yacht, Endless Dreams, will depart from Newport Beach's Hornblower Cruises (2431 West Pacific Coast Highway, Newport Beach, California) on a three hour epicurean adventure; merging the best of the best — from food to a vision of hope and progress for Orange County.
Lauded by national restaurant critic, Jonathan Gold of the LA Times, Starry Kitchen is enshrined on his "101 Best Restaurants" list, while Tran's latest venture, Button Mash, is tapped as one of LA Weekly's Essential 99 restaurants, and their recent book release "Adventures in Starry Kitchen" (published by HarperOne, an imprint of Harper Collins) cornered them support from New York Times, Epicurious, Eater, and Vice.
Now more than ever, we must bring people together and create community. This value is a pillar of my campaign and this is simply the latest expression of that commitment.
48th Congressional Candidate Michael Kotick (D), who has recently been featured in the LA Times, Washington Examiner, OC Register, will take a moment to personally meet guests and engage in conversations on a variety of topics like bringing high-paying jobs into Orange County while forging a path to a bright, successful future.
Ticket includes a custom menu for the night, a 3-hour harbor tour, and an open bar.
Join the fun! Buy your tickets now by following this link (tables of eight available):
https://www.eventbrite.com/e/hot-yacht-next-generation-flavors-and-politics-tickets-37745015357?aff=media
About the hosts:
Thi Tran and Nguyen Tran, Founders/Chefs Starry Kitchen
Accidental restaurateurs, chef Thi Tran and Nguyen Tran started an illegal underground phenomenon out of their apartment in North Hollywood that eventually became the #1 Asian Fusion restaurant listing in all of Los Angeles on Yelp in 2009 (and we have the screen captures to prove it!). They have since gone legit (at times), continued to stumble and fail upwards with their delicious Pan-Asian comfort tomfoolery, banana suit megaphone shenanigans, highly publicized marijuana dinner antics and double entendres galore with their most famous signature dish taking the lead: the Crispy Tofu Balls (that people enjoy in their mouths). (The other being their Singaporean Chili Crabs that people very often share with each other.) They miraculously built a loyal fan base that eventually followed them to downtown LA at California Plaza in 2010, the Fashion District, Chinatown and their most recent opening in Echo Park- Asian Restaurant Barcade, Button Mash. Thi and Nguyen Tran have been featured in the LA Times, The New Yorker, New York Times, NPR and Food & Wine magazine among other publications.